UOB leads the way in being right by its customers
Beyond banking services, UOB offers attractive wellness programmes for customers and improves their experience at branches via a data-driven customer feedback platform.
UOB was recognised for its dedication towards doing right by their customers, scoring wins for its unique and innovative industry-first wellness initiative, Wellness@UOB, as well as its real-time customer experience (CX) platform.
Wellness@UOB, which clinched the Health and Wellness Initiative of the Year - Singapore, was launched in 2022 to imbue and enhance the banking customer experience with a focus on their holistic wellness. Beyond financial wellness, the initiative aims to support the physical, emotional, and mental wellness of customers, improve customer engagement and satisfaction, and build meaningful and longer-lasting relationships with them. This demonstrates UOB's commitment to doing right by our customers to support them on the journey to achieve holistic wellness.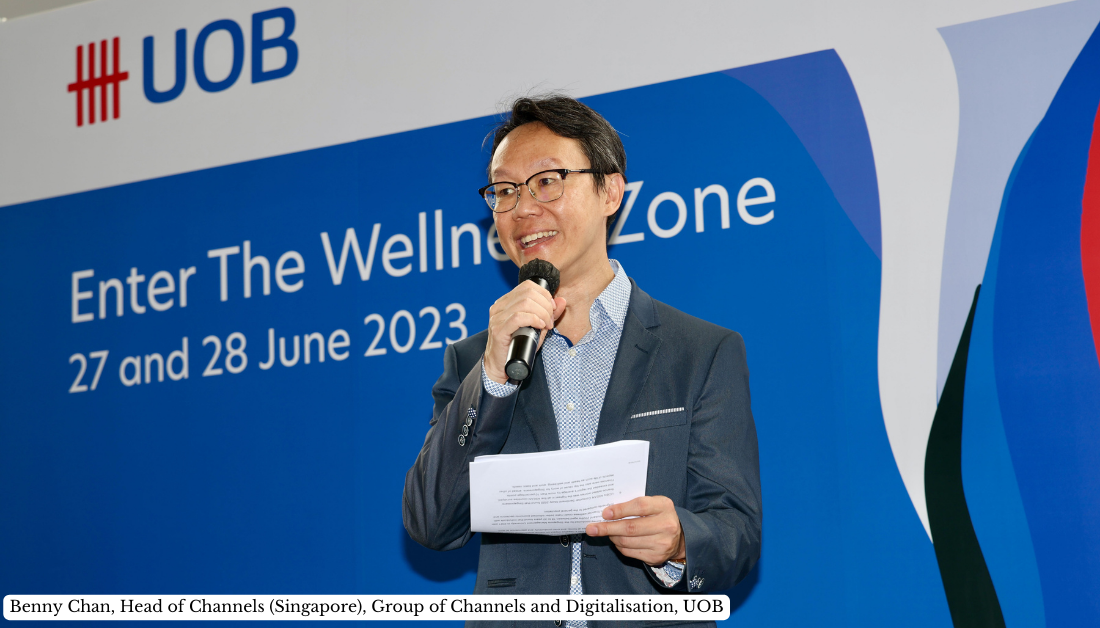 Through this initiative, UOB collaborates closely with specialised and reputable partners in the wellness ecosystem to offer attractive wellness programmes and activities, including: an industry-first health screening service provided in bank branches; daily wellness activity booths offering complimentary services; monthly wellness events at the branches; and wellness surveys to collect insights on customers' needs and interests, amongst others.
UOB's Wellness Initiatives
A total of six UOB branches were transformed in 2022 to offer wellness spaces, activity booths, and events. This is part of UOB's ongoing branch transformation to evolve bank branches beyond transactional locations to destinations for personalised services focused on customers' holistic wellness. It also enhances the bank's omnichannel approach by adding a personal touch to in-person interaction, in addition to the bank's convenient digital touchpoints. At the same time, UOB has also created specialised roles for Wellness Advocates, who are bank employees specially trained to manage wellness programmes at UOB branches.
Besides customers, UOB also cares for its own people by adopting a holistic wellness approach towards staff wellness, covering four Wellness Pillars-mental, physical, financial, and intellectual wellness. To help colleagues lead more fulfilling personal and professional lives, colleagues get to enjoy the following initiatives:
Flexible Work Arrangements

comprehensive medical care

access to counselling hotlines

wellness activities under the Bank's 'Mental Wellness Days' programme

shortened working hours on Fridays; and

an employee clubhouse in Singapore where colleagues may rest and bond with one another.
Driven by its commitment towards improving customer experience at branches, UOB has also been collecting customer feedback via a real-time CX platform. Unique QR codes are available at each branch and visible at every counter and cubicle. Customers can scan the QR code, rate their branch experience, pay someone a compliment, or raise a complaint.
From there, the branch receives customer feedback on their dashboard in real time. The feedback is then processed using data and text analytics to provide actionable summaries of the branch's customer experience rating, identify areas for improvement, and determine how to ensure continual customer satisfaction.
ABF Retail Banking Awards salutes exceptional industry leaders who have introduced cutting-edge products, services, and solutions that have made a positive impact on their customers.
The ABF Retail Banking Awards is presented by Asian Banking & Finance Magazine. To view the full list of winners, click here. If you want to join the 2024 awards programme and be recognised for your company's cutting-edge products, services, and solutions that made a positive impact on your customers, please contact Julie Anne Nuñez at [email protected].