Chart courtesy of McKinsey & Company. From the report, "SFF 2022 Insights: Enlisting FinTech To Help Create a Sustainable Future ."
Fintechs pivotal to achieve $275t capital needed for successful sustainable transition: study
From 2026 until 2050, $9.2t a year in capital spending is needed to achieve net zero goals.
Financial technology (fintech) companies play a key role in achieving the $275t capital spending needed to achieve net zero. according to a new report jointly launched by the Monetary Authority of Singapore, MAS-established non-profit organisation Elevandi, and management consulting firm McKinsey & Company.
About $9.2t a year is necessary between 2026 and 2050, or about half of annual global corporate profits, need to be targeted towards sustainable transformation in order for the net zero transition to succeed.
In 2021, funding to fintechs for good financing–fintechs that embed an ESG agenda into their core product portfolio, operations and mission–reached about $2.1b, according to the report.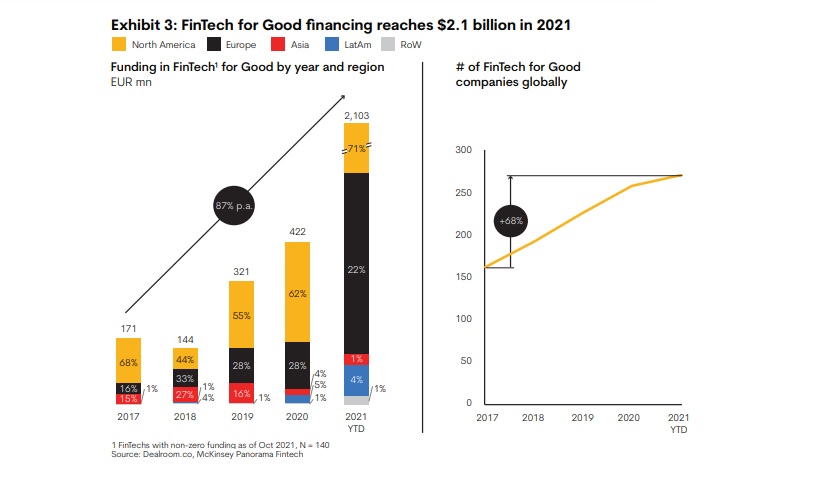 Over 50% of the funding reportedly went toward sustainable everyday banking, whilst funding to servicse offering ESG intelligence and analytics in carbon tracking showed the greatest growth since 2017, more than doubling on average each year.
"The fintech industry has the ability, and the opportunity, to rise to the occasion and contribute towards ESG, not only by addressing its gaps and problems but also by helping to lead the way," said Joydeep Sengupta, senior partner, McKinsey & Company, commenting on the report.
Amongst things that fintechs can do around sustainability are providing personal carbon accounts and green rating services, as well as impact fundraising; ESG intelligence and analytics; impact investing and retiring; carbon offset tracking; and green, accessible funding, the report said.
ALSO READ: Intent vs ability: Why lending models must be revised to foster financial inclusion
As an example, Chinese insurance and financial services giant Ping An offers its 110 million credit and debit card holders the option to create personal carbon accounts. The account allows them to track their own carbon footprint based on purchasing patterns, according Jonathan Larsen, chief innovation officer at Ping An, speaking during the Singapore Fintech Festival 2022.
Rating services provide another promising avenue, Larsen said.
"This whole space of climate change ratings creates profitable opportunities for service providers that are able to gather the right data, provide the right structure, and create the right alignment with government, with supranationals," he added.