Intelligent automation is so much more than cost savings
SS&C Blue Prism VP of financial services says this is an 'interesting time' for financial services firms.
Intelligent automation is more than just cost savings for financial firms. That was the key takeaway of the recently concluded "Accelerating growth post-COVID with Intelligent Automation" webinar by Asian Banking & Finance in collaboration with SS&C Blue Prism.
Speaking for SS&C Blue Prism, Asia Pacific Vice President of Financial Services Robert Dewar explained how financial services can work through these 'interesting times' to their advantage.
Against the backdrop of increased competition especially from heavily-backed fintechs, changing customer demands, cost pressures, and the increasing need to reduce risk these organisations can strategically invest to reap benefits beyond financial gains.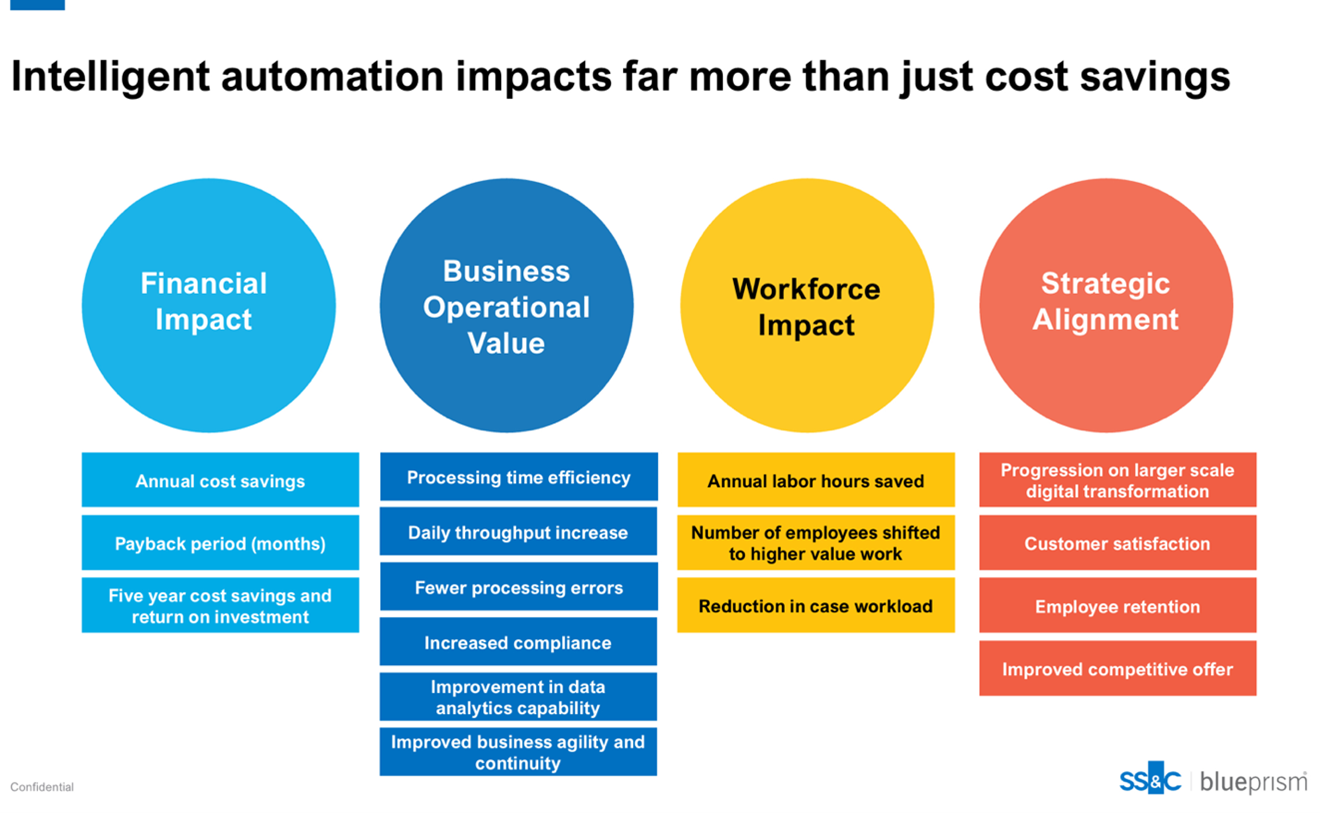 "What we're seeing with the enterprise use of intelligent automation (IA) where we're taking robotic process automation (RPA), applying artificial intelligence (AI), machine learning (ML) and various other technologies to processes and transformation projects is that the impact of this is much wider than just cost savings," Robert said.
Robert explained that intelligent automation in the financial sector also impacts business value, workforce, and strategic alignment.
"What's happening is that intelligent automation is closely aligned to the transformation programmes that organisations are constantly undergoing, we need to evolve rapidly in terms of competition, the markets and regulatory dynamics," Robert said.
Workforce
In a survey conducted by SS&C Blue Prism, they asked financial services employees what else they could do if 50% of their work were automated.
More than 50 percent said they will use data analytics to uncover problems in processes, 48 percent shared that they would spend more time with customers. 45 percent said they aim to collaborate more with colleagues whilst 44 percent said they will take the time to use data analytics to spot red flags in customer behaviour.
However, unfounded fears remain as some respondents still think that with automation comes job cuts. Robert, meanwhile, dismissed this fear. He explained that automation is not about replacing humans or minimising the number of employees in an organisation.
"It's about redesigning the business so we can maximise the high value of humans," Robert explained, pointing out that organisations are now heading towards a 'digital-first human-centric future'. This means that customers or consumers expect the option of digital service but expect that their problem-solving needs are met with solutions only humans can deliver.
"So if it doesn't go straight through in the process, they expect a highly knowledgeable human to be able to see where they were in the process, what information has been provided, what channel and not repeat themselves and be able to solve that problem," Robert added.
Innovating the bank's value chain
A very important question that was laid out to the panellists was the top opportunities for financial firms to innovate with technologies such as cloud data, AI, ML, and intelligent automation across the bank's value chain.
For Vanessa Corbett, Product Owner of Intelligent Automation at ASB, the first opportunity is to be able to give external customers and internal teams the best possible experience. She said she sees the first opportunity around connectivity.
"Every organisation would seek to ensure that their technologies and operational processes work together in harmony. Organisations would seek to ensure that systems and data don't sit in silos where connectivity between them is challenging. And this, in turn, means that automations are more successful and can deliver better outcomes for customers, which leads to an uplift in customer retention and attraction to your business," Vanessa explained.
Meanwhile, Sarabjit Anand, Chief Information Officer of Singapore and ASEAN markets at Standard Chartered Bank said he believes that opportunity lies in data.
"If I had to cover one thing on data, I think we've got more and more sources of data coming through, both structured and unstructured. And therein lies a fantastic opportunity for hyper-personalisation and that's what we are focussing on so that client experiences are enhanced," Sarabjit said.
"The other big opportunity that the Bank is going after is partnerships," he said. Collaborating with partners by leveraging APIs enables the Bank to serve across the income segment, including the unbanked population, he added. "Digitalisation, automation, and transformation are here to stay. The faster we embrace this change, the quicker we can generate benefits for our stakeholders."
Culturally embedded
Before ending the discussion, Robert reiterated that to achieve growth, intelligent automation must be taken up to a C-suite level conversation and that it needs to be culturally embedded in a firm's business practice.
Robert said that it may not be a silver bullet for everything, it still needs to be considered as part of the organisation's overall digital transformation journey.
"Automation needs to be culturally embedded and communicated across the organisation., Rather than just its usual planning versus optimal opportunism consider how scaling automation becomes part of the larger digital business strategy. Intelligent automation should be seen as a platform rather than a tool and it's part of a continuum of complementary technologies that support digital transformation" he said.