Photo courtesy of Markus Spiske via Unsplash.
8 in 10 Singaporeans approve of proposed phishing scam accountability framework: poll
Over 4 in 5 says that financial institutions should be held most accountable for scams.
Almost 8 in 10 (78%) of Singaporeans believe that the new shared responsibility framework (SRF) for phishing scams strengthens accountability, especially of banks and financial institutions.
A poll of 1,008 Singaporean adults by YouGov found that 7 in 10 Singaporeans expect telcos to be more responsible with the proposed framework, and nearly two-thirds (64%) indicated that it will make consumers more accountabile.
Last week, the Monetary Authority of Singapore (MAS), together with the Infocomm Media Development (IMDA) published a joint consultation paper to tackle accountability in phishing scams. The SRF in particular assigns financial institutions and telecommunication companies duties to mitigate phishing scams, and requires payouts to affected scam victims where these duties are breached.
ALSO READ: Singapore proposes shared responsibility framework for phishing scams
Breaches of duties listed include failure to send outgoing transaction notifications to consumers and a failure to implement a scam filter in the case of telcos amongst others.
FIs are most accountable, consumers say
When it comes to bearing scam losses, Singaporeans hold banks and financial institutions most accountable, with more than 4 in 5 (84%) of respondents to the YouGov poll saying they are liable to some or to a great extent.
Over 7 in 10 believe that the responsibility of bearing the losses should lie with the consumer (77%), telcos (76%), and the government (76%).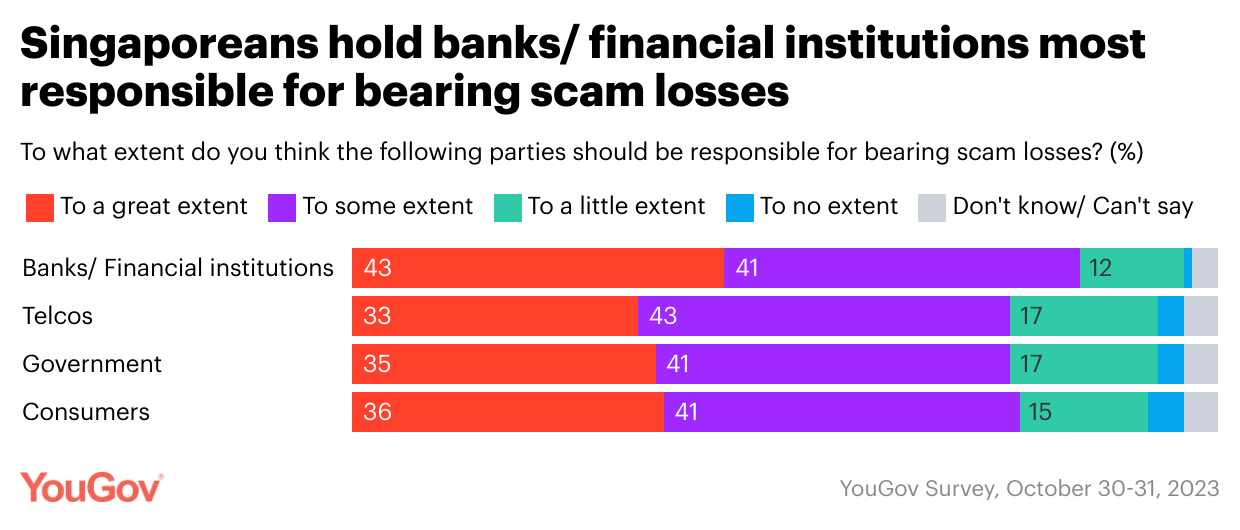 1 in 7 receive daily scam communication
Even more alarming is the frequency that Singaporeans receive scam texts, calls, or messages. About 1 in 7 (14%) told YouGov that they receive such communication daily, and nearly half (48%) receive scam calls, texts, or messages weekly.
Meanwhile, 19% of respondents say that they receive it montly, 10% receive one every few months, and 3% receive scam messages and calls longer than a few months at a time.
Demographic-wise, men are more likely than women to receive scam texts, calls, or messages.
Those belonging to the Generation X say that they feel most targeted by the scams, with over half (52%) receiving scam communication on a weekly basis.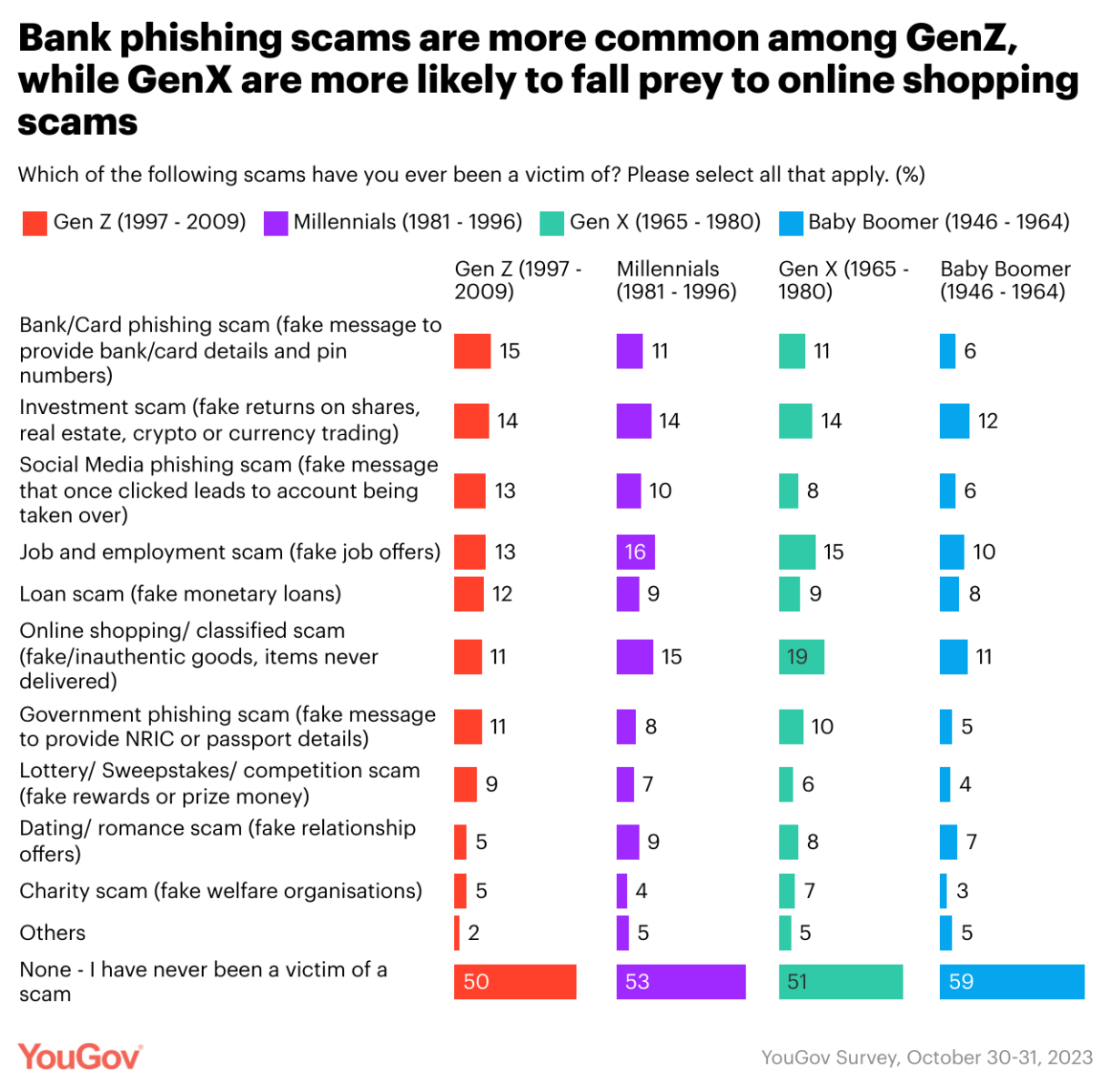 Fake products, job scams up top
In terms of the types of scams that Singaporeans have fallen victim to, online shopping and job scams are most common. Approximately 15% of respondents have received fake items or did not receive the items they ordered. Job scams followed closely, with 14% of respondents receiving fake job offers.
At least one in ten Singaporeans have been a victim of Investment scams (13%), Bank/card phishing scams (13%), loan scams (9%) and social media phishing scams (9%).
More than half claim to have never been a victim of any scam (53%), YouGov said.

By generation, GenZ in Singapore most commonly face bank/ card phishing scams, at 15% of respondents from this demographic indicating this. This is followed by investment scams (14%) and social media phishing scams (13%).
For Millennials, job and employment scams top the order (at 16%), followed by online shopping scams (15%) and investment scams (14%).
Amongst the GenX, online shopping scams have been the most common (at 19%), followed by job scams (15%) and investment scams (14%).

Of those who have been victims of scams in Singapore, one in seven (14%) admitted to losing money because of it. Three in ten haven't experienced it personally but know a friend or family member who has lost money due to a scam (30%).