Photo by Ruslan Bardash via Unsplash.
'Optimism' drives credit activity growth in Hong Kong
Hong Kongers are more optimistic about their household finances for the next 12 months.
Credit activity in Hong Kong grew 32% year-on-year in Q1, according to data from credit reference agency TransUnion.
Credit card organisations grew the most, reporting a 45% year-on-year increase. Card originations amongst subprime consumers grew 391%, albeit this is from a low base. The total credit limit for newly originated credit cards increased by 73% YoY during Q2 2023, with subprime limits having increased by 242% YoY.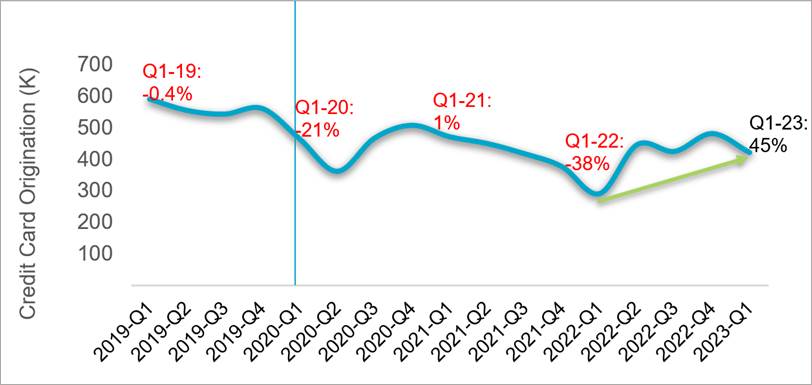 However, TransUnion noted that average new card limits on these sub-prime originations are 30% lower than the average new card limit offered to consumers in the same tier in Q1 2022.
More originations
TransUnion said that the increase in originations may be a result of rising optimism after the economy recorded a 2.7% growth in Q1 and a subdued inflation growth of 1.9%. The low unemployment– at just 2.9% as of July– may have also helped.
"Consumers are actively re-engaging with the newly reopened economy, seeking out offers from lenders that include appealing benefits and lucrative loyalty programs," said Marie Claire Lim Moore, Asia-Pacific regional president and Hong Kong CEO at TransUnion. "Lenders have invested heavily in promotions driving acquisition and spend, through a variety of mechanics, including reward currencies in return for choosing a particular airline or retailer."
The behavior is also in line with TransUnion's recent consumer pulse survey where 2 in 5 (45%) of the 910 respondents from Hong Kong say that they are optimistic about their household finances for the next 12 months, and 1 in 3 (35%)
"Consumers are making the most of their renewed opportunities to transact with an increased confidence in Hong Kong's economic growth – they're travelling and shopping, and they're actively seeking the most lucrative rewards and return on their spend while exercising their significant buying power," Lim Moore noted.
ALSO READ: The majority of Hong Kong youth believe that financial advice-seeking is beneficial
Virtual banks on the rise
Virtual banks are slowly but surely gaining ground in the credit market. In Q1, virtual banks recorded 49% of all revolving line originations– or loans that allow an individual to continuously borrow and repay money for an open amount of time.
This makes virtual banks the leading provider of this loan type.
Virtual banks are particularly popular among borrowers, as their platform and their banking experience are designed to be more engaging for this segment. This is supported by TransUnion's consumer pulse survey, where 56% of respondents say that they hold a loan from a fintech firm or a digital bank.
"Competition is intensifying in the revolving line market. To stay competitive and capitalise on the growth in this market, lenders need to offer a friction-right verification and onboarding process for their customers, who expect fast, pleasant, and personalised experiences," Lim Moore said.
"With two-thirds of respondents saying that they would switch brands for a better digital experience, FinTech platforms are well positioned to leverage consumer identity solutions that support smooth customer onboarding and retention, enabling trust between businesses and consumers," she added.
ALSO READ: About four out of 10 Hong Kongers say fraudulent messages are more common than ever
Virtual lines are also gaining a share in personal loan originations, and now hold 9% of all originations in this loan type– a slight increase from the 7% it held in Q1 2022.
Overall, personal loan originations grew by 5.2% in Q1 compared to Q1 2022, with most demand in the prime and below risk tiers. Balances grew by 8% over the same period and continue to stay at higher levels than pre-pandemic observations, TransUnion said.