Meeting the challenges of SME Banking during the COVID-19 pandemic
Understanding the needs of SMEs is key to a bank's sustainability—and even success—during the current crisis.
The COVID-19 pandemic has caused massive economic disruption that has severely tested the strength and resilience of many businesses. With global economies experiencing the biggest public health crisis in history, many businesses have been compelled to close down as lack of cash, decreases in sales, difficulties in loan installment payments, complications in bank financing and changes in consumer behaviour have proliferated.
The result has been weakened economic conditions that have challenged the banking industry and inflicted massive instability in financial systems.
If there's one thing that SMEs have learned from this crisis, it's the urgency to adopt digital strategies to manage and improve their sustainability. Yet this assertion in using technology and digital servicing has been anchored in place even before the pandemic.
A study made by Accenture revealed that technology—particularly software and services that enhance their website and digital marketing—has been the number one area of investment for SMEs before and during the COVID-19 pandemic. What's interesting is that the percentage gap before and during the pandemic isn't significantly huge: Prior to COVID-19, 61% of SMEs have already been investing in technology—after the pandemic, the figure only increased to 64%.
However, what the crisis has done is magnify SMEs' interest in expanding their businesses online. Prior to the pandemic, ASEAN SMEs ranked the need to continue digitalising as their fourth most important approach (49%) and the improvement in customer experience as their top priority (63%). The COVID-19 outbreak resulted in a significant priority shift, with SMEs across the region recalibrating their strategies to focus on digitalising as their top priority (60%), with improving customer experience dropping to third place (52%).
Repositioning future-ready SME banking services
As SMEs focus on regaining a more secure foothold, banks should take this opportunity to act as a partner/enabler to help these businesses emerge stronger even during the pandemic.
An EY survey found 37% of SMEs wanted to increase the level of engagement with their banks. Despite this, traditional banks often regard SMEs as too costly or risky to serve, resulting in lack of engagement between the two. According to a research study made by Strand:
69% of SMEs see banks as a utility provider and only 8% view banks as a business partner

43% of SMEs are considering switching to a challenger bank

16% were open to exploring other providers, with more than two-thirds open to non-traditional lenders that can give them a faster loan approval process before the COVID-19 crisis happened
The results show that banks need to improve their SME digital service offerings to remain competitive. To do this, they need to focus not only on the SMEs' financial needs, but also their entire business process. Here are three key areas they should consider:
1 Enhance digital channels and tools in banks
The expectations of SME banking have elevated and evolved through the pandemic, and banks need to be more creative in meeting their needs with a wider range of services via digital channels, including access to credit, flexibility of loan repayments, and facilitating face-to-face meetings in a digital setting.
SME banking services could offer the same type of SME platforms with relevant data-driven insights and analytics. Banks will be able to predict when a capital injection is needed and tailor appropriate loan offerings.
Banks have to leverage their digital capabilities to support SMEs against non-bank challengers and alternative lending providers by building meaningful relationships, increasing touchpoints and making hybrid services such as video chats with relationship managers available.
2 Offer holistic solutions: The "Going Beyond Banking" Concept
Banks should also go beyond banking by offering holistic solutions to improve e-commerce. Consulting firm Oliver Wyman lists the following suggestions:
Improve e-commerce (growth and sales) through different platforms like online sales and marketing, customer insights

Manage cash flow with enhanced digital lending process, accounting forecast, automated alerts, and etc.

Create various payment transactions that include mobile, e-wallets, and other digital payments

Manage logistics through data capture, cross-logistics, and online legal and shipping services

Improve productivity by using Enterprise Resource Management (ERP) solutions, customer document and sales management software, etc.

Offer lending solutions like supplier and buyer financing, discounts, retailer cash advances, and more
CREALOGIX provides a holistic, modular, digital platform—including all the necessary business logic—that enables banks to achieve new levels of digital automation and efficiency. Rethinking the strategy of going beyond banking, banks can equip SMEs with a new level of SME digital banking that is more than providing valuable banking services, enabling them to grow and succeed.
3 Improve personalisation in banks
Consumers exposed to digital technology are aware of how technology can provide them with more personalised experiences. According to Salesforce, 52% of customers expect financial institutions to always personalise offers, and 66% expect them to understand their unique needs and expectations.
Those days when personalisation was limited to special offers and promos have long gone. Now, it has expanded to include the entire customer journey itself—from purchasing to customer engagement, to transaction, buying frequency, and cross-selling, to product loyalty and customer retention.
According to Strands, 40% of SMEs cite "lack of personalisation" as a reason to leave. When banks fail to provide them with the kind of personalised financial management services that they want, the likelihood of turning to challengers and fintechs becomes greater.
Creating a seamless and consistent customer engagement experience via all channels enables banks to personalise your service to end users, whilst making it easy for them to interact via the channel of their choice.
Banks should consider adopting these ideas: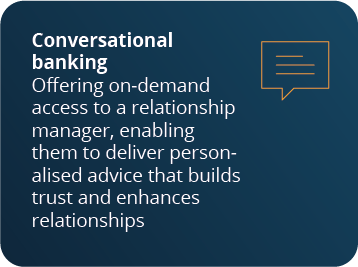 ​
​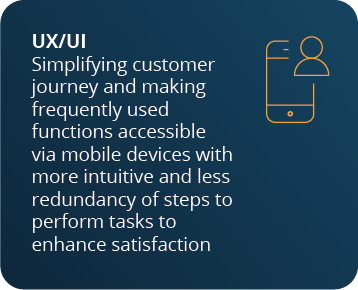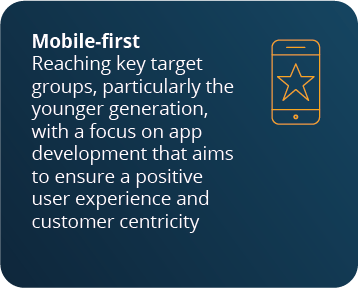 ​
Final Word
The SME segment is growing strongly as a main driver of economic growth in the region. When left to fend for itself—compounded with dwindling capital during the pandemic—there is an increased likelihood that SMEs will feel the most impact, resulting in sudden closures or bankruptcy.
As there are many challengers, with non-bank and BigTech players disrupting the market, the only way that banks can stay competitive is to accelerate innovation and adopt digitisation strategies. This can be complemented by working with technology partners with scalable, agile solutions that allow faster time-to-market.
At CREALOGIX, we focus on enhancing personalised experience, accelerating innovation and leveraging ecosystems in developing our solution, steered by customer demand, market insights and digital trends. With our technology, we enable banks to grow their existing business and take advantage of upselling and cross-selling opportunities. You can learn more by visiting our website: https://crealogix.com/en/solutions