MS: Taken during the official launch of the Cebuana Lhuillier Micro Savings product. Photo shows (from L to R): Michael R. Sena, First Vice President & Group Head for Integrated Marketing Communications, Cebuana Lhuillier; Andre D. Lhuillier, Senior Executive Vice President, Cebuana Lhuillier; Jean Henri Lhuillier, President & CEO, Cebuana Lhuillier & Vice Chairman, Cebuana Lhuillier Bank; and Dennis O. Valdes, President, Cebuana Lhuillier Bank at the "#KayaNa: Unbanked Filipinos No More Financial Inclusion Forum" which served as the formal launch of the micro savings product nationwide.
Cebuana Lhuillier Bank gets Rural/Cooperative Bank of the Year nod at 2021 Asian Banking & Finance Retail Banking Awards
The bank's commitment to providing financial inclusion through innovative service is considered a game-changer in the Philippines
For ordinary Filipinos, especially those earning just enough to get by, having money saved up for emergencies or to fuel their life's dream was simply impossible. Not because they do not have the desire to save, but due to a multitude of barriers such as the lack of access, numerous documentary requirements, and the high cost of opening an account.
The introduction of Cebuana Lhuillier Micro Savings changed all that. A flagship product of Cebuana Lhuillier Bank, it empowered Filipinos to save, regardless of their location and stature in life. By simplifying the process of opening and maintaining a bank account, micro-savings provided Filipinos with secured and reliable access to their hard-earned savings which proved vital when the pandemic hit. Now, two years following its launch, Cebuana Lhuillier Micro Savings has more than five million account holders across the Philippines.
It also served as the first step towards Cebuana Lhuillier Bank's evolution towards becoming one of the strongest players in the local finance industry. Since then, the bank has been feted by the Bangko Sentral ng Pilipinas (BSP) as one of its outstanding stakeholders for 2021. The nod as Rural/Cooperative Bank of the Year from the Asian Banking and Finance Retail Banking Awards 2021 highlights the bank's continuous growth as a key proponent of financial inclusion in the Philippines.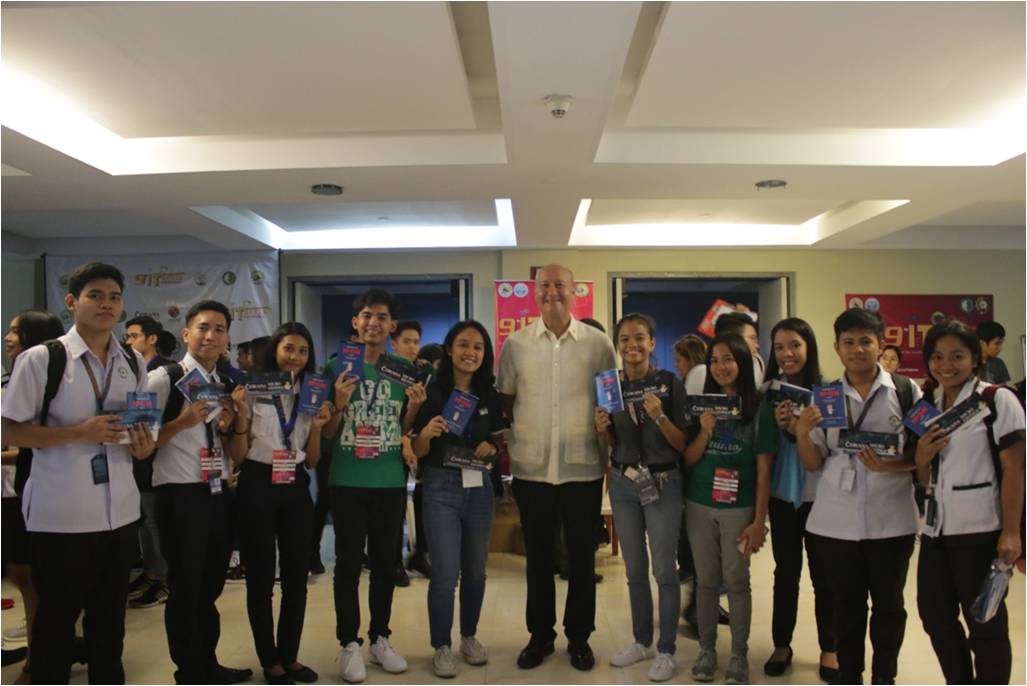 Cebuana Lhuillier Bank Vice Chairman and Cebuana Lhuillier president & CEO Jean Henri Lhuillier with students of University of Makati, during one of his talks promoting the "Iponaryo" mindset through Cebuana Lhuillier Micro Savings
From rural bank to industry game-changer
Cebuana Lhuillier Bank (CL Bank) traces its roots 23 years ago when it was first established as a rural bank serving the needs of communities, mostly in provinces located in Southern Luzon. With a product portfolio geared towards the Filipino masses and a pulse for responding to the financial needs of the community, it became aware of the severe lack of accessibility for many Filipinos to the most basic needs of the community, especially in rural areas.
Committed to its mission of financial inclusion where every Filipino should have the access to the most basic financial products and given the capability to save for their future, CL Bank tapped its sister company, Cebuana Lhuillier, the country's largest micro-financial services company, as its cash agent. The partnership proved a success, providing the bank with the capability to reach a bigger market— thanks to Cebuana Lhuillier's 2,500 branches spread out across the Philippines, 20,000 network partners both offline and in the digital space, and service-oriented innovations geared towards millions of its clients. To date, the bank has five physical branches, with plans for expansion in place.
In 2019, the partnership led to the launch of Cebuana Lhuillier Micro Savings, putting CL Bank in the league of big players in the banking industry and becoming one of the biggest contributors to the BSP's campaign for financial inclusion in the Philippines.
Products designed to empower the underbanked and underserved
Arguably, CL Bank's most groundbreaking product is Cebuana Lhuillier Micro Savings, a basic deposit account available in over 2,500 branches nationwide, and offers no maintaining balance, dormancy fee, and minimal account opening requirements. This served as a cost-efficient medium to encourage low-income Filipinos to take a step towards financial inclusion.
As of June 2021, Cebuana Lhuillier Micro Savings has a portfolio of USD75M, with more than five million account holders. During the same period, the second phase of the product was introduced, offering enhanced features and full financial mobility through ATM access for clients, InstaPay, and UnionPay capabilities, and access to eCebuana, a mobile app which enables clients to do financial transactions, such as pay bills and send money, at their convenience.
The Micro Savings joins the Bank's full suite of products including regular savings and checking, special savings and time deposit accounts under its deposit portfolio. Also available are various loan facilities boasting affordable terms and hassle-free approval. These include housing and MSME loans.
CL Bank's roster of products respond to the most basic financial needs of its clients made possible through its branches, agency banking, and further complemented by digital tools meant to empower underserved communities, especially the micro, small, and medium enterprises.
With its sights set towards inclusive banking, CL Bank continues its commitment to innovation by making available its extensive product line from its branches to digital channels that further enable its clients to access their services anytime, anywhere. To do this, the bank is looking into providing a seamless omnichannel experience, combining the strengths of both its brick and mortar presence; with the potential for innovation in technology.