The ISO 20022 Journey: Connected, Market-Ready and Native
Deck: Banks need to embrace a three-part journey to truly deploy ISO 20022 and reap the detailed data and digital modernisation rewards.
ISO 20022 finally got your attention. The payments industry across the globe has done a very effective job to educate and persuade financial institutions about the benefits of a more robust messaging standard. And we have also made a compelling case that it is a touchstone of digital transformation and the ability to compete.
Still, we cannot declare "mission accomplished" yet. There is a lot more to do in terms of meeting deadlines and some banks are under a lot of pressure to adopt ISO and adapt to the changes it will create. Banks know this is not a one-time exercise. There is the table stakes of simple adoption this November for SWIFT and various market infrastructures including MEPS+, BahtNet, RENTAS, RITS etc., and then ISO's use cases and utility will make it an ongoing project.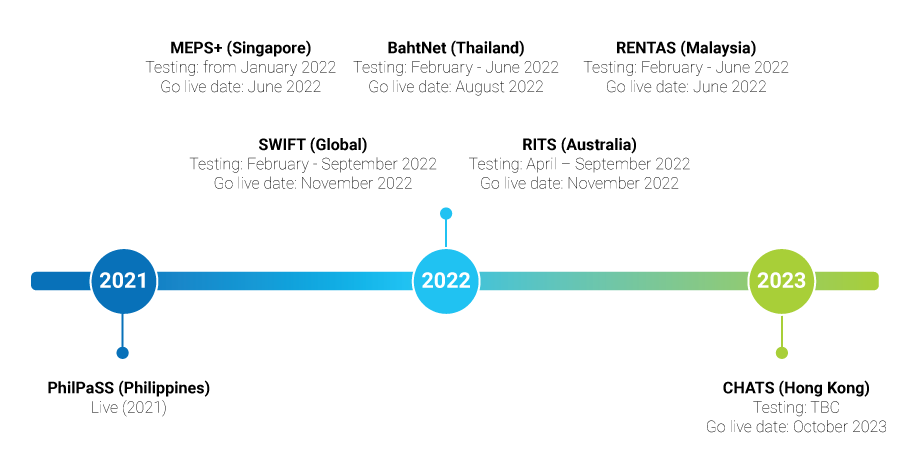 With that in mind, it is important to set some signposts on the ISO journey. Specifically, banks need to embrace a three-part journey to truly deploy the standard and reap the detailed data and digital modernisation rewards it will extend to them, corporates and consumers. That journey goes from 'connected', to 'market-ready,' to 'ISO native'.
ISO connected is the minimum, and whilst it will leave a lot of work to do later on, banks have to start here. Connectivity in the ISO context is a two-part program. There is a technical connectivity part and there is a messaging business data part. Understand that neither one of these is a banking, payments, or cash management project. This is about messaging, data, and compliance. The technical connectivity will require adaptations of core systems and payment gateways to accommodate ISO standards, and IT teams will also need to adjust architecture to change reconciliation, sanction screening, fraud, and liquidity. ISO connected is your ticket to the game, but you cannot play yet.
Then there is part two of the ISO connected phase—messaging data. This is more complicated because it is where banks have to change the information they are sending and receiving. ISO is an entirely new set of information. A standard ACH payment, for example, requires only name, bank routing number, account number, and payment amount. ISO's messaging architecture has thousands of fields covering payments, securities, trade services, cards, and foreign exchange. This stage of connectivity gets you into the game.
On to phase two: market-ready. In this stage, you get into the game, but you do not have 'ring-side' seats yet. The market-ready phase is characterised by the completion of upgraded infrastructure (phase one) to the point where it does not affect daily operations. The technology part is done, but there is more work to be done in the background. Some gaps that need to be addressed in this phase include introducing new network providers, new API options, new payment rails like instant payments and overlay services like Request to Pay. You can send and receive ISO messages at this point, which is a huge step up in the digital migration that is so urgent for banks. But market-ready ISO does not mean you are automatically ready for instant payments. What you do get is a more automated operation and an opportunity to think about payments as transactions leading to new products and services. It also means you are in compliance with the mandatory deadline for sending and receiving ISO messages in November.
Phase Three: ISO native. Now you are in the game with the best seats in the house. All systems have the right architecture, the right data, and the right format. Accessible elements for ISO Native (outside of the obvious data volume and analytics) include real-time payments and real-time settlements, lower costs via straight-through processing, better tracking of transactions, transparency to meet current and new regulations, payments-system stability improvements, and better payment processing monitoring.

The Bottomline: The testing window for SWIFT is now open, as well as those for MEPS+, RENTAS & BahtNet. It is vital that banks and FIs ensure that they meet the deadlines for November 2022 to receive and process ISO 20022 messaging. If not, they risk losing visibility of messages being sent from SWIFT and also risk reputational damage from having not processed critical payment information. But the reasons to take this three-part journey go beyond rules and regulations. There is the enhanced customer experience resulting from the data generated by the ISO format, which will also make it easier for parties receiving payments to achieve higher levels of automation and provide more services to their customers. There is also the competitive and innovative necessity of the ISO format. The universal rollout will lead to enhanced interoperability and standardisation between countries as the region migrates to a single messaging standard. It will be nearly impossible to compete in 2022 and beyond without ISO 20022.
To find out more, view EastWest Bank's success story where they migrated to PhilPaSS Plus, enabling them to receive and send data-rich ISO 20022 messages or click here.